20 Nov

20 Brilliantly Designed 404 Error Pages

 If you're 

starting a blog

 or website, don't forget the all-important 404 page – a standard response code in HTTP telling the user, in effect, that they've clicked on a broken link.

It's traditionally been an immense source of frustration. But in recent years, creatives have taken up the challenge of designing bespoke 404 pages that use humour, great UX or beautiful design to at least sweeten the pill of finding out that you're in the wrong place.

Done really well, a 404 page can become a mini-ambassador for the website itself. It might even be shared on Twitter or relevant blogs as an example of the site's keenness for customer service or unique approach to design. The 404 error pages we present here have achieved all this and more, so take a look and be inspired to create your own.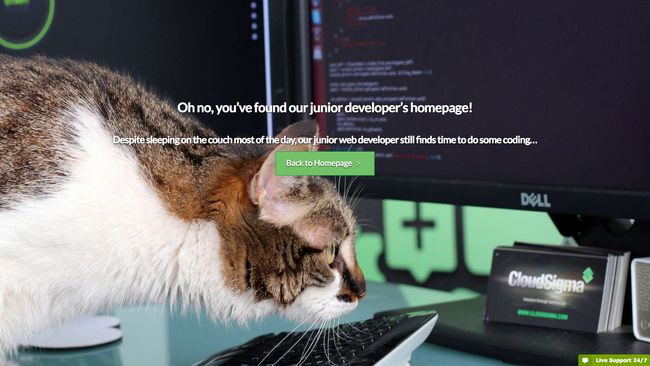 Cloud Sigma is a cloud server and cloud hosting service operating in the US, Europe and Asia-Pacific region. While flexible cloud servers sound useful, they're not exactly fun, which we guess is why the company has had so much fun with its tongue-in-cheek 404 error page. We wonder how long it'll be before this helpful-looking junior developer gets poached by the competition.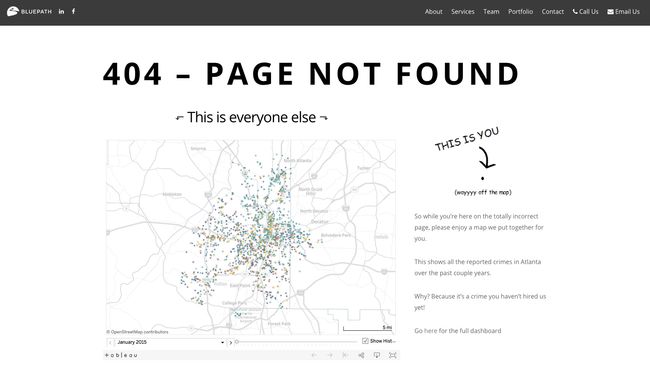 Another website to use humour on its 404 error page is Atlanta-based data strategy consulting firm BluePath. We appreciate the way it keeps its jokes topical, using a data-driven map of reported crimes in Atlanta to illustrate the fact that you're way off the map. "Why? Because it's a crime you haven't hired us yet!" is its cheesy punchline. Ah, these whacky data analysts.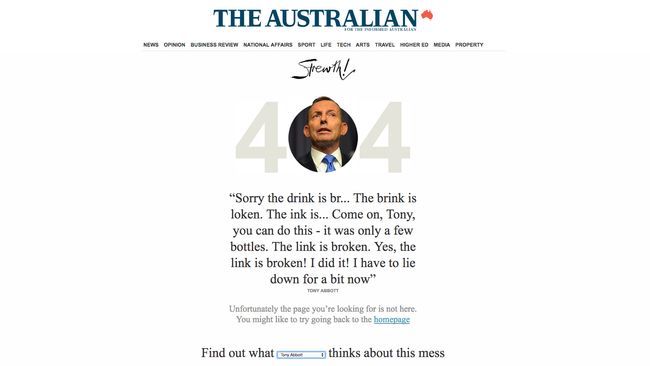 Australian national newspaper The Australian, owned by Rupert Murdoch's News Corp Australia, has just redesigned its 404 error page. And what a corker it is. Poking fun at politicians' language, personas and public mess ups, it invites you to select a politician to explain away the error like only a politician can. On point and lots of fun.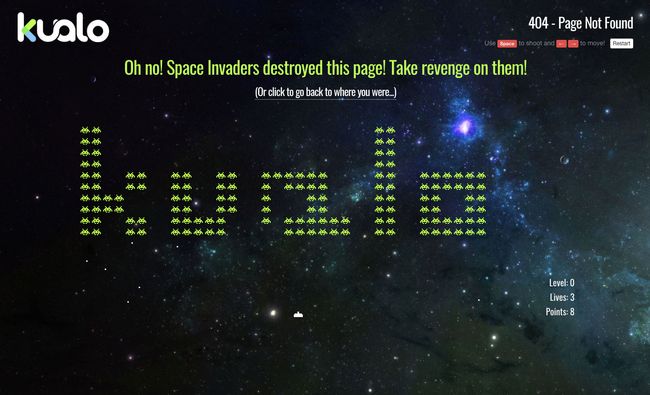 Hosting company Kualo has been in business for over 15 years – an eternity in internet time – and its 404 page reflects its venerable status, treating you to a game of Kualo-themed Space Invaders.
 It's not perfect. The key strategy of picking off the fleet's outer edges to slow the invaders' descent doesn't work, for starters. But it is fun, and it can earn you a discount on your hosting deal if you manage to score over 1,000 points.
Its inclusion in this article has also inspired US pest control company Pointe Pest Control to include its own Pest Invaders game on its 404 error page, complete with different flying and crawling bugs to spray. As Chloe Zollinger from Pointe says, "Beware, if you choose to play you may be distracted all day!"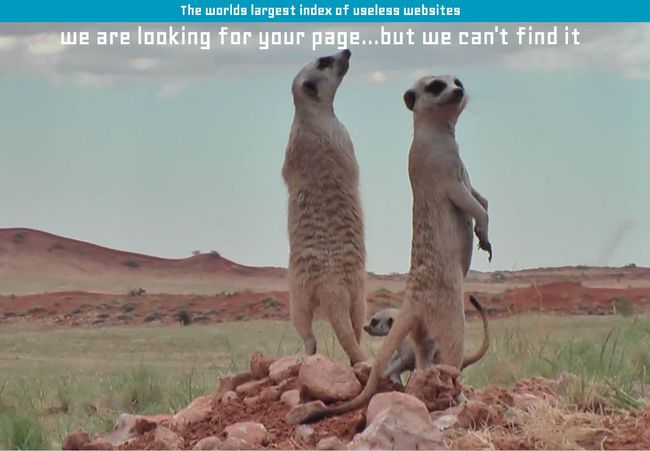 Even the world's largest index of useless websites can have an off day. And when the Useless Web Index can't find what you're looking for, it's ready with the next best thing: video of meerkats, doing meerkat peering and stuff for your amusement.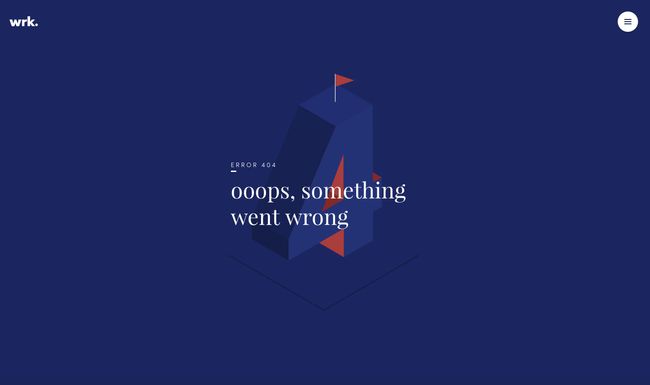 French studio Waaark's 404 page is nice enough to look at, but it's better to listen to – although maybe not at work. Inspired by Stephen Hawking, the Hitchhiker's Guide to the Galaxy and Portal, it uses a JavaScript text-to-speech tool called meSpeak to subject you to a sweary robotic tirade.
New York-based artist Steve Lambert describes this as "the most awkward 404 not found page on the internet", and you know, he may well be right. It features an excruciating piece to camera that just goes on and on. We defy you to get to the end of his video without any part of your body clenching.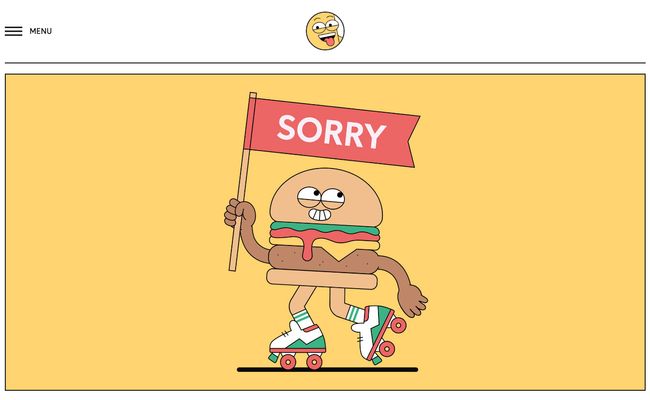 Some 404 pages are technical masterpieces, and some – specifically Dan Woodger's, which features a drawing of a cheeseburger on roller skates – are not. But while it might not push any technical boundaries, it does give you a clear idea of Dan's style, and encourages you to click through to the rest of his work.
Even though we have a copy of Adobe Illustrator right here, and could play with anchor points and Bézier curves literally any time we want, we're still entranced by Figma's 404 page, in which the big 404 is rendered in vectors that you can reshape to your heart's content.
Bloomberg's 404 page initially looks pretty ordinary, until it suddenly pans out from the 404 error into a bizarre animation involving an off-the-shelf 3D model of a businessman smashing his broken PC into bits.
Hot Dot Productions has applied its 'where design meets technology' tagline to its impressive 404 page, which features the three numbers made up of hundreds of tiny dots that change direction in response to mouse movements. Seriously cool.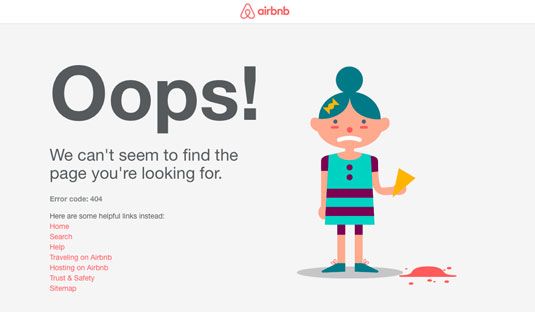 This 404 page from couch-surfing behemoth Airbnb features a delightful animation that holds lessons for us all about the inadvisability of dropping ice cream. It also brings to mind stories about people who have rented out their homes on Airbnb, only to come back to a disaster area. Look, if you drop ice cream on the floor, clean it up, right?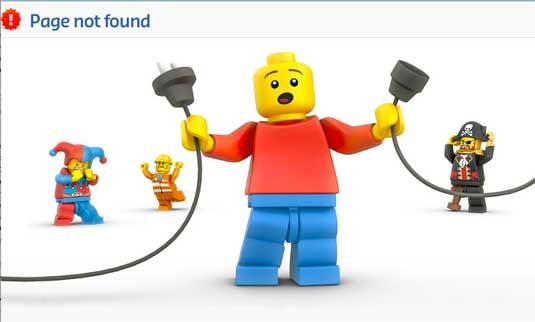 Lego can do no wrong in our eyes (Have you read our piece on How Lego reinvented itself as a super-brand yet?). We love this cute 404 page, which proves that you don't need a lot of technical-sounding text to get your error message across.
Villanova University's Falvey Memorial Library in Pennsylvania may not have international stardom, but it does have dragons. Created by Laura Bang and Chris Hallberg, this 404 page just makes you smile with its amusing "Careful!" title and clear instructions and options to get you back on track and away from these dangerous beasties (don't worry, they're just beautiful illustrations from a library book).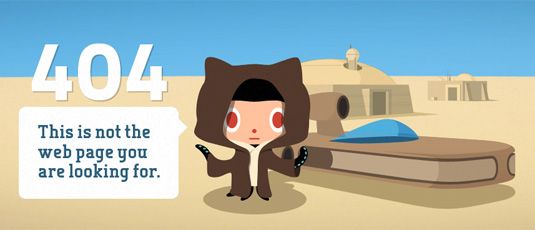 Coding website GitHub is the home of geeks, and what better way to appeal to geeks than through a simple Star Wars parody with parallax effect when you move your mouse? GitHub also has a nice 500 page for when the server breaks.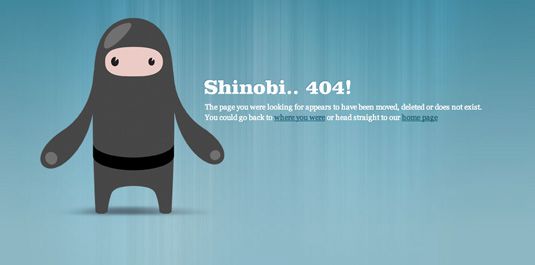 The web design world loves ninjas. Falling in with the trend (and, we guess, its name), the 404 page for CSS Ninjas features a clean, simple illustration that reflects the site's general approach to design.
As you'd expect for a movie design professional, this website makes excellent use of animation and sound. Its 404 page employs a beautifully rendered video of a subway station, complete with 'missing' and 'lost'-themed movie posters and an empty train that rolls in, which you can click to board. As with many of the examples here, the page diverges from the overall site aesthetic to great effect.
The designers at ultra-hip email newsletter service MailChimp have morphed the company's well-known monkey into a Hulk-type character – complete with animated smoke – to signify a broken link. The style of the 404 page fits the rest of the site design nicely, reflecting the same lighthearted approach that turns an otherwise boring task into something fun and endearing.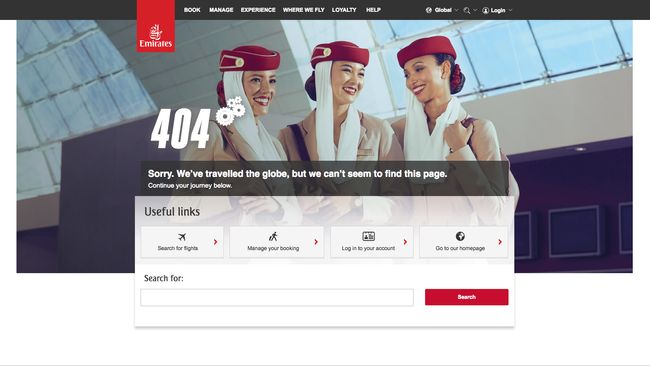 When you're an international airline known for chic styling and expectations of high quality, you don't want a sub-par 404 page. Luckily for Emirates, its page ties in beautifully with the rest of its website, nailing its brand voice to a tee and providing ample opportunities to get back on track with ease. Great UX; great customer service.
 Proving that 404 error pages don't have to be funny to be well done, US auto repair company Repair Pal uses beautiful imagery to brilliant effect. Like the Emirates error page, it also provides large buttons and a search box to help users to find the content they needed nice and quickly – much more user-friendly than the bog standard home page button offered by most.
"Stumbling on a 404 page can be a frustrating experience, so we wanted to take a lighter tone from the start," the design team tells us. "The team landed on the nighttime van photograph as a no-brainer to relating back to the automotive nature of the site. We went through a few variations on the text, but our team ultimately went with 'Off The Grid,' as it's easily understood and relates to being out in the wilderness of our website. It also still serves a functional purpose as it provides a few, quick links back to our most popular pages."
---
This article first appeared on Creative Bloq